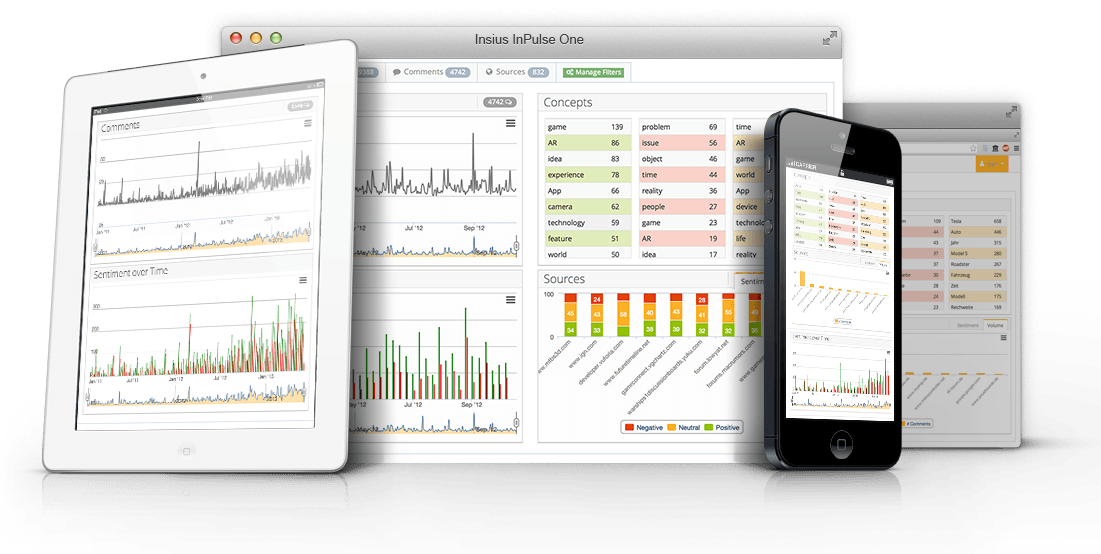 InPulse is a fully customizable Web-monitoring dashboard that enables you to quantitatively and qualitatively get an overview of the development of and changes in consumer discussions. InPulse intelligently detects consumer discussions to avoid noise from news articles, product descriptions, or content spam.
Do you need to know when, where, what and how much consumers discuss your brands, products, or topics of interest? Is it also a concern to get an aggregated view on what topics are relevant within those discussions? Is it important to you or your customers to separate consumer discussions from editorial content?
Then, InPulse is the right product for you.
Who
 doesn't need InPulse?
Do you solely focus on social media channels? From a qualitative perspective, are tag clouds from Twitter hashtags, words, or word types sufficient for your analyses? Do you need to identify and engage users?   If so, then InPulse is not the right tool for you.
Although InPulse also collects social media content, it focuses on the qualitative analysis of Web content.
What
 is the difference between InPulse and other solutions?
The main focus of InPulse is Web content. Furthermore, InPulse differs from other monitoring solutions by the four attributes of coverage of data collection, detection of topic relevant user-generated content, detail level of sentiment analysis, and segmentation features.
Coverage of Data Collection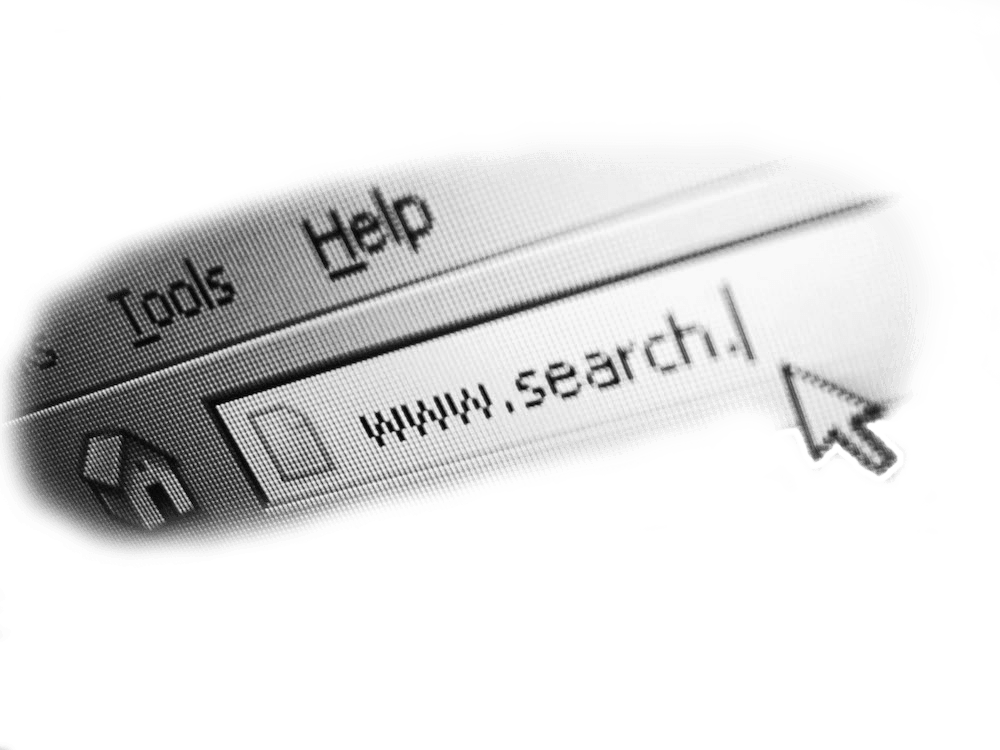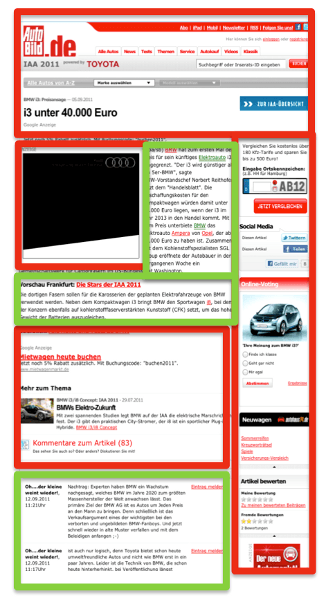 Get relevant content — no matter where it is
Different from other solutions, InPulse is not bound to a predefined and therefore limited source set of sites. Instead, it simulates human search behavior, leading to maximum coverage and relevancy. Only content that can be retrieved by search eninges can also be found by an information-seeking user - and potentially influence him.
Get complete content
Instead of just parsing feeds containing only small snippets of actual content or naively collecting whole webpages as plain text, InPulse makes use of computer-vision algorithms in order to detect information-bearing content and distinguish it from irrelevant elements like navigation bars, ads, product lists, and surveys.
Let the voice of the consumer be heard
On the Web, consumer comments (user-generated content) are mixed up with editorial and professional content such as product and company descriptions, news articles, and content spam. InPulse is able to automatically distinguish user-generated from professional content and help you hear the voice of the customer.
Get content matching your subject
Some topics may not be easily defined by keywords (e.g. Apple, Continental, Target). One common approach is to build more complex queries using a Boolean search operator, such as "Apple AND (computer OR mac) NOT fruit". Still, because of the complexity of human language, it is impossible to precisely clarify in this way, therefore retrieving either too many irrelevant or insufficient relevant results. InPulse topic relevance detection uses computer learning methods in order to retrieve meaningful and topic-relevant content, obviating the need to draft complex and error-prone Boolean expressions.
User-generated content and topic detection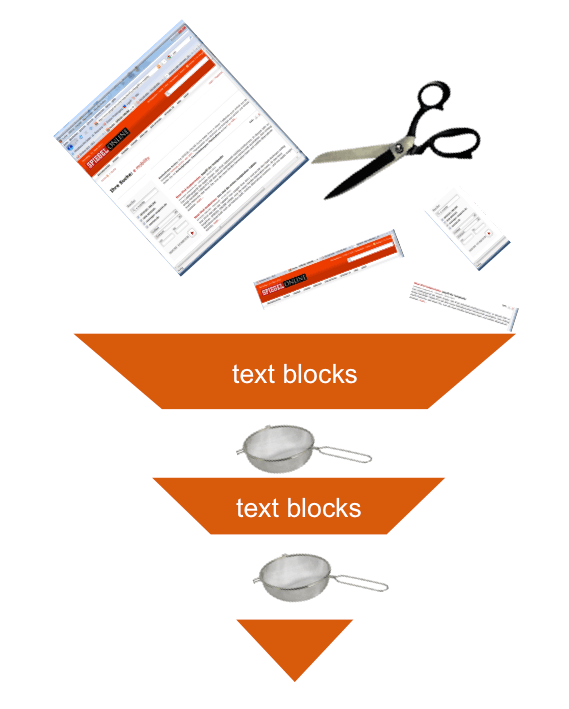 Sophisticated sentiment analysis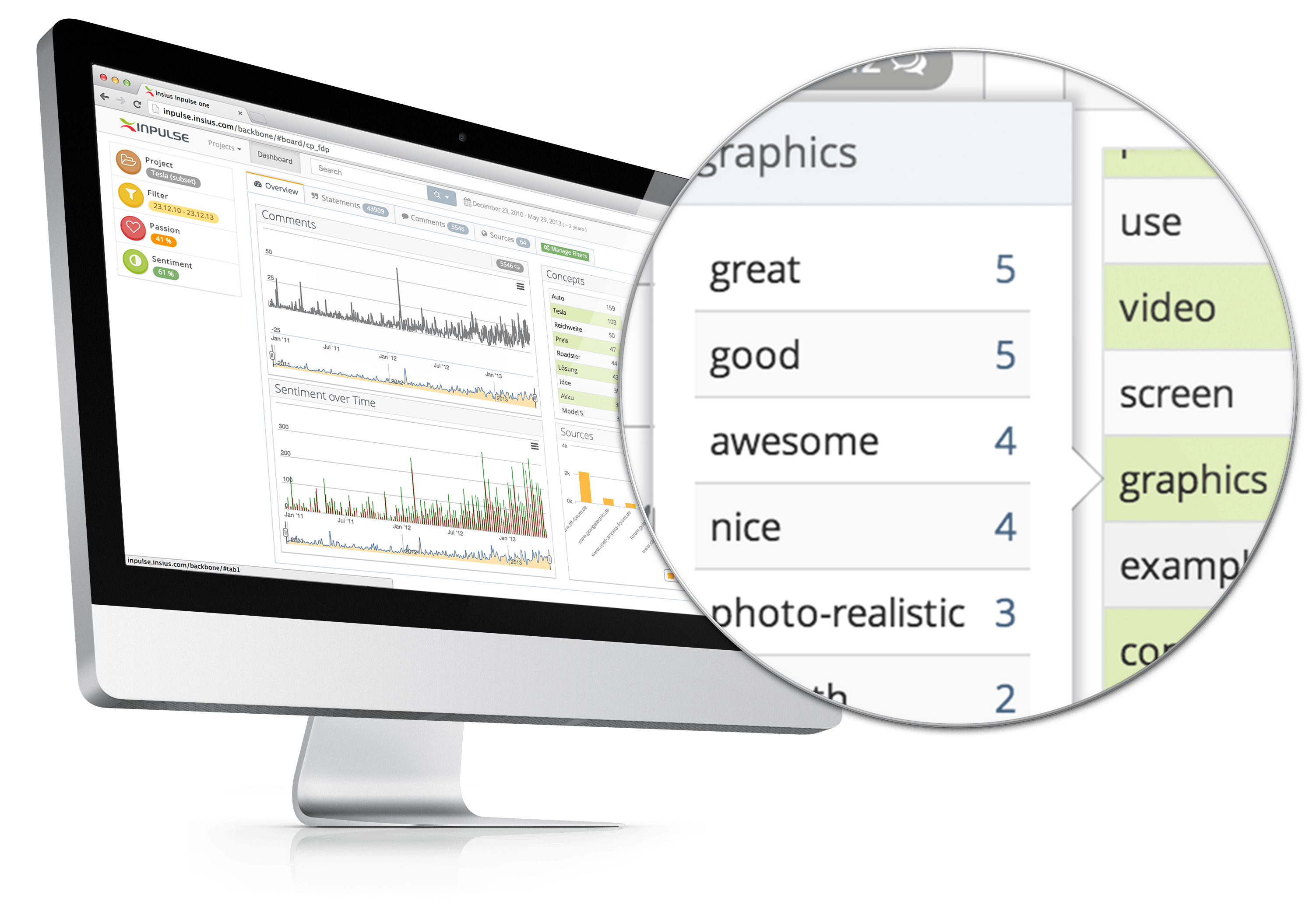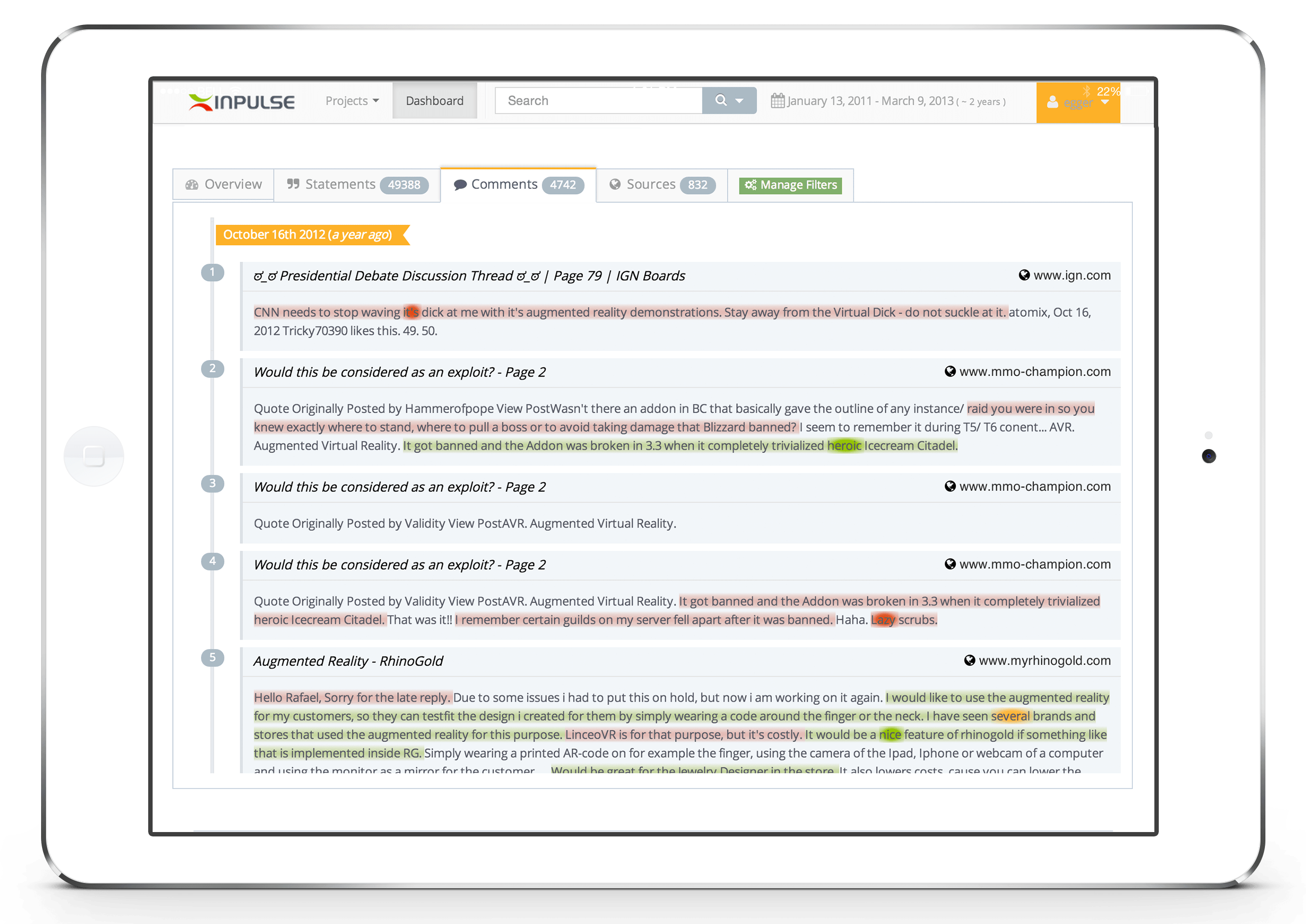 Learn about the sentiment of a phrase and concept level
Common sentiment analysis is done on a "one sentiment per comment" level. Nevertheless, usual comments contains positive and negative statements as well, so assigning a single sentiment is impossible:


I liked the car's appearance and design, and it was fun to drive, but the car broke down rather often and the spare wheel was hard to access. Naive Sentiment-Analysis: 2x postive, 2x negative words =  positive or negative ?
InPulse detects tonality on the level of single statements and even down to the level of concepts. InPulse is also able reveal reasons for positive and negative classifications:
"I liked the car's appearance and design, it was fun to drive, but the car broke down rather often and the spare wheel was hard to access InPulse statement- and concept-based sentiment analysis
The InPulse Review Heatmap lets you directly see the statement-based and concept-based sentiment by highlighting it within the text. Also, our positive/negative clustering enables you to conveniently access statements according to their tonality independently from the occurrence within the text.
Live Segmentation
InPulse enables you to slice and dice your monitoring data by any attribute or combination of attributes in real time. For example, this lets you directly recognize which other topics, sentiments, and quantitative attributes are ambient when users positively discuss your specified topic within a certain community. Every segmentation result is computed live and in real time by InPulse, which gives you extensive filter and segmentation features at hand.
White-labeling
Do you or your customers demand state-of-the-art Web monitoring and you need InPulse as a white label or customized to your corporate identity?
We are happy to customize InPulse to your requested appearance and requirements. Contact us for more information.